Attorney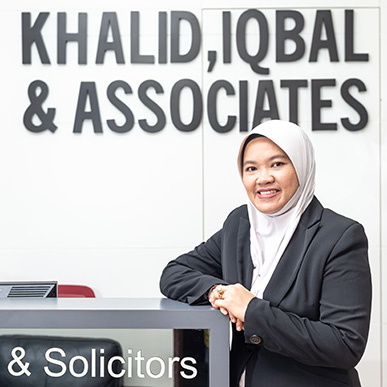 NAHZATUL AIN MOHD KHALID Download VCARD
Advocate & Solicitor
LL.B. (Hons) UiTM, LL.M. (UM), ADSL. (UiTM), PMP (PMI) (PENNSYLVANIA), MSC. Info Mgmt. (UiTM)
Nahzatul Ain Binti Mohd Khalid was awarded with the Best Student Award for LLB. (Hons) Law program at UiTM for the year 1998. She was admitted to the Malaysian Bar in 1999 and is one of the founding partners of Khalid, Iqbal & Associates (An ISO 9001:2015 certified Legal Firm).
EXPERIENCE
Throughout her 20 years of practice, her land/Property matters related experience includes:-
Conveyance of land and properties (developer (development more than RM300 million), individuals, auction, deceased, companies etc)
Preparation of loan security documents for Banks, Financial institutions and License Moneylenders) and discharging the same
Review of Award under the Compulsory Land Acquisition Act
4. Declaratory Order related to land (including Specific Performance)
5. Order for Sale of Deceased Property/deceased estate by Administrator
6. Distribution order of property/deceased estate by Administrator
7. Prepare Deed of Trust of property
8. Prepare and register Power of Attorney to deal with land/property
9. Application for removal of Caveat on Property
10. Claim for Liquidated damages for delay in Completion of Property by Developer
11. Appeal on Real Property Gains Tax Assessment
12. Appeal against grant of planning permissions to the Appeal Board
13. Trespass to land
14. Nuisance against adjacent landowners
15. Matrimonial Property Claims in Syariah Court
16. Determination of beneficiaries of estate of the deceased (Muslim)/Faraidh Application in Shariah Court
17. Determine the validity of Hibbah of Property by Muslim in Shariah Court
18. Determine the validity of will relating to property for Muslim in Shariah Court
DEED AND AGREEMENTS INCLUDING

Joint Venture Agreement
Shareholders Agreement
Sale of Business Asset
Sale of Business
Investment Agreements
Legal Due Diligence
Know Your Customer
Construction Sub Contract Agreements
Consultancy Agreement
Settlement Agreement
Partnership Agreement
Licensing Agreement
Lease Agreement
Tenancy
Deed of Trust
Other types of business agreement
Construction Agreement
Renovation Agreement
Distributor Agreement
LITIGATION, ADJUDICATION & ARBITRATION
Land Acquisition appeal for various parties in Penang, Selangor and Wilayah Persekutuan (Value of Properties more than RM500 million)
Construction Payment Claim under CIPAA 2012
Construction Claims under Arbitration Act
Successfully defend the Government of Malaysia claim for alleged breach of contract and various contractual matters from diverse clients
Successfully obtained an ex-parte application for mandatory and prohibitory injunction for breach of contract and for passing off
Obtaining specific performance, Mareva Injunction for foreign company, Trademark Order, compelling Companies Commission to amend its Register, Industrial Relations matters, Negligence and Nuisance, Trespassing; and Taxation matters
Appeal cases to the Appeal Board (planning permission) involving Local government
Death involving employer liability and owner of premise liability
Industrial Court Claim
Forfeiture of Property Claim
SYARIAH
Syariah cases including Divorce, Child Custody, Invalidation of Will, Invalidate of Hibbah, Faraidh, Mutaah, Maintenance and Faraidh etc

OTHER EXPERIENCE
She has since 2010 been actively involved as member of Bar Council Small Firm Committee, Bar Council Construction Committee and KL Bar Corporate and Conveyancing Committee. Her training conducted for lawyers, Government Link Companies and Public Listed Companies includes on Conveyancing Process and Procedures, Probate & Letter of Administration, Real Property Gains Tax and Compulsory Land Acquisition process and review and currently coordinating the CIPAA 2012 reform proposal under the Bar Council Construction Committee. She is a Panel Adjudicator for Construction Industries Payment Adjudication Act Claims (AiAC) since 2016. Her passion is on Quality Management system and its applicability to Legal Firms.
EDUCATION BACKGROUND
• Degree in Law, LLB. (Hons) from UiTM in 1998
• Masters in Science in Information Management from Faculty of Information Management UiTM in 2003
• Masters of Law from University Malaya in 2006
• Post Graduate Degree of Advance Diploma in Syariah Law (ADSL) from UiTM in 2008
• Associates Qualification in Islamic Finance from (IBFIM)